Surprise suprise!
Guess who decided to wear a sweater and combat boots today? Imagine the look on our faces when we saw each other this morning, matching outfits again!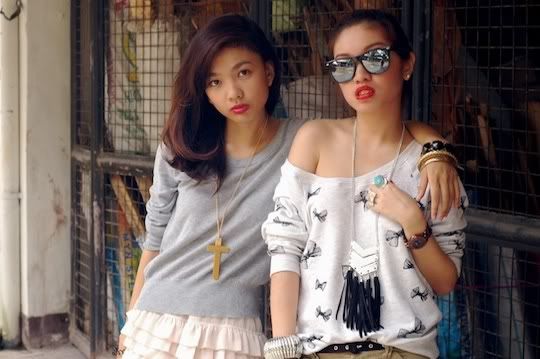 We both opted for the subtle approach, obviously. Not too grunge-y, not too dainty. You cannot imagine how funny it is, how we're so a like in ways we don't even realize, haha!
I paired the sweater off with a chiffon skirt to break the rocker feel, and Nikki went for her cute and chic ribbon sweater for that touch of "sweet."
Trying to make my hair appear longer was such a fail in the photos! Hair, grow longer faster please! :( And theres, Nikki's "shades hair" which means.. she wears shades when she puts her hair up. So cute, meganon! Haha!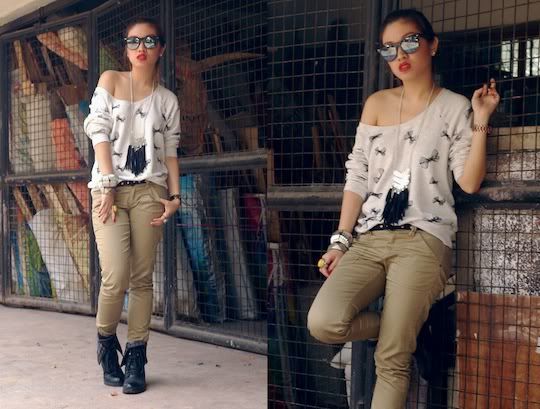 Nikki - F21 sweater and boots, Mango pants, Ruckus necklace, Thrifted Accessories, Sunnies (borrowed for a while from Tal Tantuico haha! Thanks Tal!)
Don't you just love Nikki's combat boots? <3 Finally she got a pair! She's been eyeing combat boots here and there since last year and couldn't find the perfect ones. Who knew that that one trip to F21 would lead her to these babies.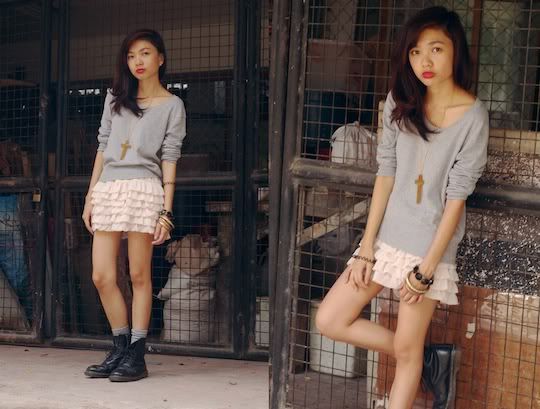 Anne - Thrifted sweater & skirt, Thrifted Doc Martens, Thrifted accessories, Superfluously necklace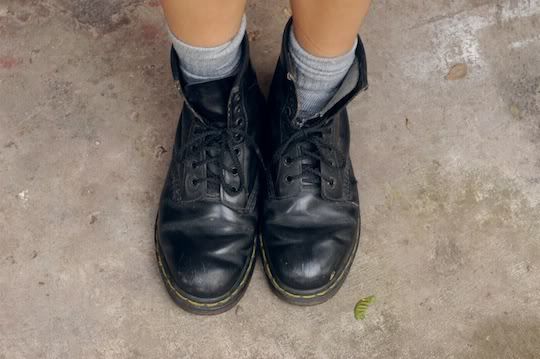 I love my rugged Doc's which I got last year. Definitely a steal! I just love how it's worn out, it adds so much character to the pair.
Thrifted accessories! We love great finds at Landmark and everywhere else! As accessory designers, we love creating extraordinary pieces, but we just cannot get enough of cheap everyday pieces. Nothing beats thrifted finds!
How was your Thursday? :) We'd love to hear all about it! Have an awesome Friday, guys! :)
<3 Anne