Hi, everyone!
A little introduction would be necessary, perhaps?
Seeing double? No we're not twins! They say opposites attract, but never for us! The La Petite Filles, "the little girls" Me (left) and Nikki (right), aren't only mistaken as twins, but share the same love for art, fashion and even dogs as well! Currently on our third year of college, battling with school, and everything in between, it's amazing how we still find time to make accessories!
(Anne, 19 - the brainchild of Superfluously & Nikki, 20 - owner of the renowned Ruckus Accessories)
More than college best friends, we're practically sisters. Sharing so many things in common, but are still different in so many ways! I will always be the cheapster  and Nikki will always be the more fasyon one! We share with you our world, this is our creative channel.
Matching outfits happen practically everyday! Whether planned, or not, sometimes we just come to school in the same color / same style / same motif, without even knowing it. Well, you know what they say… great minds think a like ;)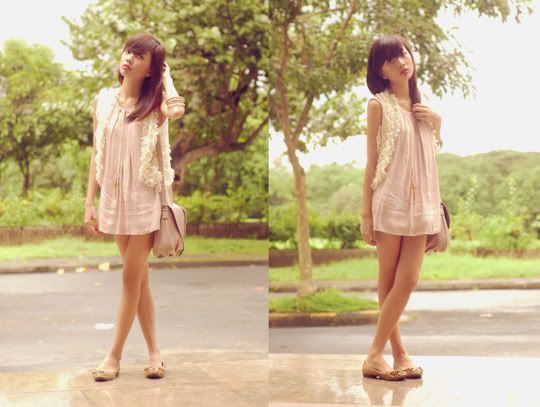 Anne - (Dress, vest, bag - thrifted, Shoes - Parisian, Cross necklace - Superfluously)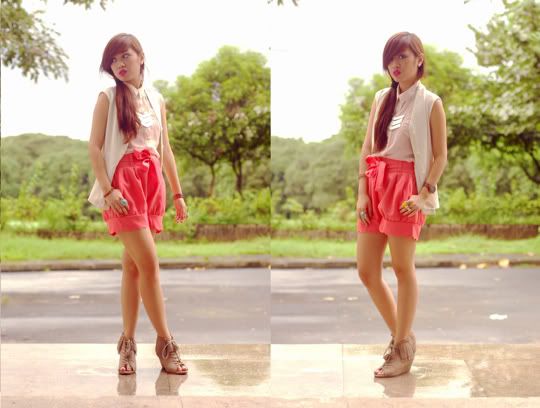 Nikki - (Top - DIY, Vest - thrifted, Shorts - The Ramp, Shoes - Hong Kong, Accessories - thrifted, Necklace - Ruckus Accessories)
For our adventure yesterday we decided to try out the newly opened BonChon Chicken and St. Alps Teahouse in Katipunan!
BonChon Chicken for lunch! This may be our best meal yet!
Yes, we love BonChon Chicken! <3
We love their fast service, too! (they were jam-packed!)
And most of all, we love their Soy Garlic Chicken Wings & Bulgogi Rice!
Next on our list was Saint's Alp Teahouse! We love the cozy and conducive to relax atmosphere. Wish they'd open in Maginhawa St. too so we would have to go all the way to Katipunan!
We super love the lighting fixtures! So creative what they've done with those light bulbs.
Their "soft-opening" menu, but already, we find it so legit, haha! Well, we do love anything simple with a clean layout.
Nikki ordered their best selling Black Milk Tea with tapioca and I ordered their Taro Milk Tea, which I loved, haha. A break from the usual milk tea flavors!
How can we not recommend that you drop by both BonChon Chicken & St. Alps Teahouse and give 'em a try? Definitely won't be our last visit!
BonChon Chicken Katipunan - right in front of Ateneo Gate 3, Regis Center, 2nd floor. They deliver too! Dial 2121212 or visit their Facebook page for their menu and details of their other branches.
Saint's Alp Teahouse - Regis Center, 2nd floor, beside BonChon Chicken. Open from 11AM -11PM. For more info, visit their Facebook page.
Don't forget to tell us about your own BonChon Chicken & St. Alps Teahouse experience! :)
<3 Anne